UHF RFID Desktop Reader CAEN SLATE - EOL End of Li
Desktop RFID UHF RAIN Reader R1260I Slate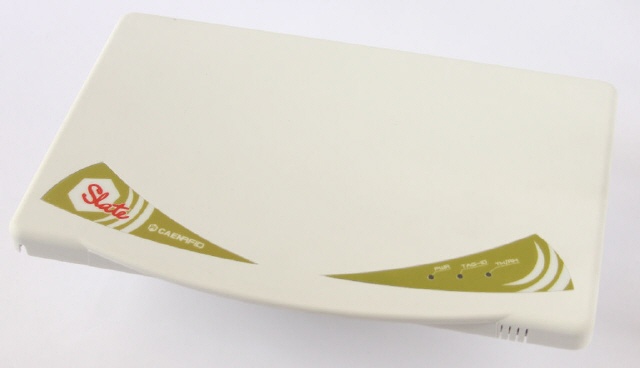 The Slate (Model R1260I), desktop reader of the easy2read Family, is a multiregional UHF RFID reader with integrated antenna for short to medium range applications. The reader is powered and controlled directly by an USB cable, thus allowing to read EPC Class1 Gen2 UHF RFID tags in an easy desktop environment.
Thanks to its low profile (15 mm) and its size (approximately an A4 page), the Slate reader is the perfect choice for various applications such as point-of-sales, document tracking, tag programming stations, access control and so on. It can also be used as a building block for smart shelves and smart displays.

Being compliant with both European and US regulatory environments, the Slate reader allows installations in various countries worldwide as needed by retailers, forwarders, warehouses and other global organizations. The core component of the Slate reader is the CAEN RFID Quark module, the lowest power consuming module available on the market.
Typische Anwendungen des Slate
Point-of-Sale
Zutrittskontrolle
Dokumentenmanagement
Initialisierung von UHF GEN2 RAIN Transpondern
Warenverfolgung
Logsitik von Kleinteilen
Gesundheitswesen
Spezifikationen CAEN SLATE:
| | |
| --- | --- |
| RFID Modul - Frequenz: | 865.600-867.600 MHz ETSI und 902-928 MHz FCC part 15.247 |
| HF Ausgangsleistung: | + 26 dBm ERP, Leistung per Software in 15 Stellungen wählbar |
| Antennen: | integriert, zirkular polarisiert |
| Lesereichweite: | bis 1 m in Abhängigkeit vom verwendeten Transponder und der Umgebung |
| Multi-tag Reading: | ISO 18000-6C / EPC Class1 GEN2 |
| Interface: | USB 2.0 Type A, High Power Port, vitueller COM Port |
| APPS für: | Windows 7/8/10, Windows CE 4.2, Linux 2.40 und höher |
| Tasten: | keine |
| Display: | LED Anzeige, 3 fach, Spannungsversorgung, Kommunikation, Resultat |
| Lagertemperatur: | -10 bis +55 Grad C |
| Betriebstemperatur: | -10 bis +55 Grad C |
| Schutzklasse: | IP 32 |
| Baugröße (LxBxH): | 297 x 205 x 15 mm |
| Gewicht: | 525g |
| Gehäuse: | Kunststoff |
| Spannungsversorgung: | USB Port, 5v DC, 400 mA max. |
Bestellinformation CAEN SLATE
| | |
| --- | --- |
| Meshed-Code | CAEN-Code |
| RDU-R1260I | WR1260IXAAAA R1260I - RFID UHF Desktop Reader Slate |